Another Friday has come around and its time for another Fan Friday.  Community creations, new avatars, Fan Site Spot-light and the developers blog.  Expect your usual Fan Friday goodness.
The Post-Writing Polish Process
Ian Ryan in this developer blog talks us through the polishing process of the writing team.  He talks about how getting the right environment for the right story is vital too story telling.  As always its a fascinating read into the communication between the writing and art team.  They give a great example of Nar Shaddaa's Promenade.
"After reviewing this, the writing team asked the artists to kick up the Promenade's glitz and glam levels a few hundred notches. Lead Concept Artist Arnie Jorgensen responded to the challenge and the result speaks for itself:"
To read the entire article please head HERE.
---
Community Creations and Fan Site Spotlight
As with every Fan Friday we have the usual fantastic community creations, showing the best art work, stories and role plays the community has too offer.  In addition we have Fan Stie Spotlight featuring AskaJedi.
What did you enjoy most from our E3 coverage?
What's your favourite piece of extended universe content relating to The Old Republic?
To read the entire article please head HERE.
---
The Old Republic was a Big Hit at E3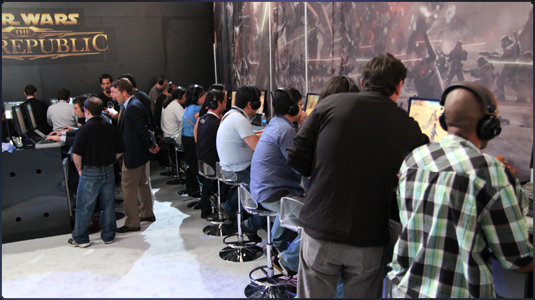 We also get Bioware's reaction of The Old Republic at E3.
To read the entire article please head HERE.
Thank you all for reading and I'll see you all next week.