This Friday Bioware starts up a new video series called 'Choose Your Side', in this video it is the Jedi Knight against the Bounty Hunter. Who will win? Also Senior Game Designer William Wallace continues his developer blog on companion characters. Its an eventful Friday.
Choose your Side – LINK
'Choose your side' is a new video series that showcasing a class from each faction put one against each other. Today we get the first of four videos.
Lets get ready to rumble folks. Its the Jedi Knight vs the Bounty Hunter.

Senior Writer Hall Hood and Designer Austin Peckenpaugh takes the side of the Jedi Knight where Senior System Designer Pete Warner and Writer Randy Begel defend the Bounty Hunter.
Throughout the video they all give reasons for why they believe their class will win.  From explaining certain abilities and strategys to saying that their class is just damn right awesome.
So guys its up to you.  Who do you think will win?
Don't forget to show your support on Twitter by using the tages #CYSJediKnight and #CYSBountyHunter.
---
Companions Characters Update 2 – LINK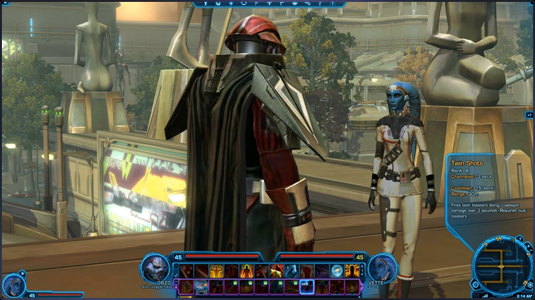 Continuing on from his previous article William Wallace explains the improvements to the companion AI and their role in groups.  From giving control too the players to decide what abilities your companions will use too a AI taking the role of a human player to get your Flashpoint running.
Don't forget to check out this article.
Thank you all for reading.