Ladies and Gentlemen today is our last Friday together.  We've been good to each other for many years but its time to move on.  And what better way to say goodbye, than the Sith Inquisitor Character Progression trailer.
Sith Inquisitor Character Progression – LINK
---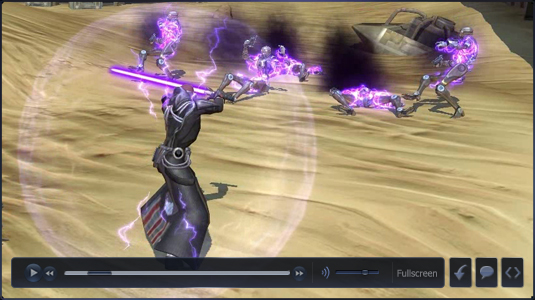 Its been a long wait but the Sith Inquisitor Class Progression video is here.  Its full of purple and lightning.  Don't like lightning then what the hell is wrong with you?  As usual the video demonstrates the class basic skills and the two advance classes, the lightning hungry Sorceror and the devious backstabbing Assassin.
Fans of the class will fall in love with the video as it shows with proper understanding of the force, powered by your emotions, you can turn into an unstoppable killing machine.  And I'm not just saying that because the Sith Inquisitor was Overpowered in Beta.
Enjoy the video.
Be Part of the Holy Day 20/12/2011 – LINK
---
What better way to celebrate the launch of TOR than to spend it with the guys that made the game themselves.  Bioware staff will be with the fans when they go out on the frosty 19th December to get their game.  So why not join them?
US
Best Buy at Union Square, New York – BioWare Co-Founders Dr. Ray Muzyka and Dr. Greg Zeschuk
Best Buy South Austin, Texas – James Ohlen and Rich Vogel
EU – These take place on the 14th December!
Virgin Megastore located on the Avenue des Champs-Élysées – Technical Design Director, Emmanuel Lusinchi.
Oxford Street GAME in London – Alexander Freed, Writer on Star Wars, The Old Republic and author of both the "Blood of the Empire" and "The Lost Suns" series of comics.
SWTOR Community Blog – LINK
---
Finally Bioware have created the Community Blog that will replace the Friday Updates that we have all come to love and enjoy.
Similar to the Friday Update Bioware will use this blog to communicate with the community, with Updates, Important Information, being updated more frequently and at any time during the week.  Which just made my job a lot harder.
Expect to see a lot of information in the Community Blog post launch.
Farewell Friday Updates
---
Well this is goodbye.  I've been doing Friday Updates for TOROcast for over a year.  Every minute of it has been a blast.  If it wasn't for the Friday Updates I wouldn't be Co-Host of TOROcast and wouldn't of met as many people from this fantastic community.
I'd like to thank Dedmon, Malice and Kenzo who have done Friday Updates and video Breakdowns when I couldn't.  Them filling in has helped me greatly and I love them all for doing so.
Also thank you Bioware for continuously updating without fail (apart from that one) an update, week in week out.  There have been a few bumpy updates but if it wasn't for you I wouldn't be where I am today.
Finally I'd like to thank the community.  Its been a long wait but its almost finally here.  You guys and gals have made this wait so much more bareable and I've loved every minute.  So truly thank you for sticking with TOROcast and the SWTOR Community to the very end… or beginning.
Farewell Friday Updates.  You shall be missed.